The Ultimate Chill Out Experience.
INTENTION + VIBRATION = TRANSFORMATION
- 3, 6, & 10 minute Morning + Evening Music Meditations
- 10, 15, & 20 minute Deep Chill Music Meditations
- AYA Breath Meditations
- AYA Music Video Meditations
- 60, 80 & 90-minute extended music flows for enhanced vibe to work, chill, to accompany yoga practice
- 20+ hours of Extended Music Meditation Library

- Music and guidance to host your own Sound Ceremonies
- Mantras & sacred songs from around the world
Your Guide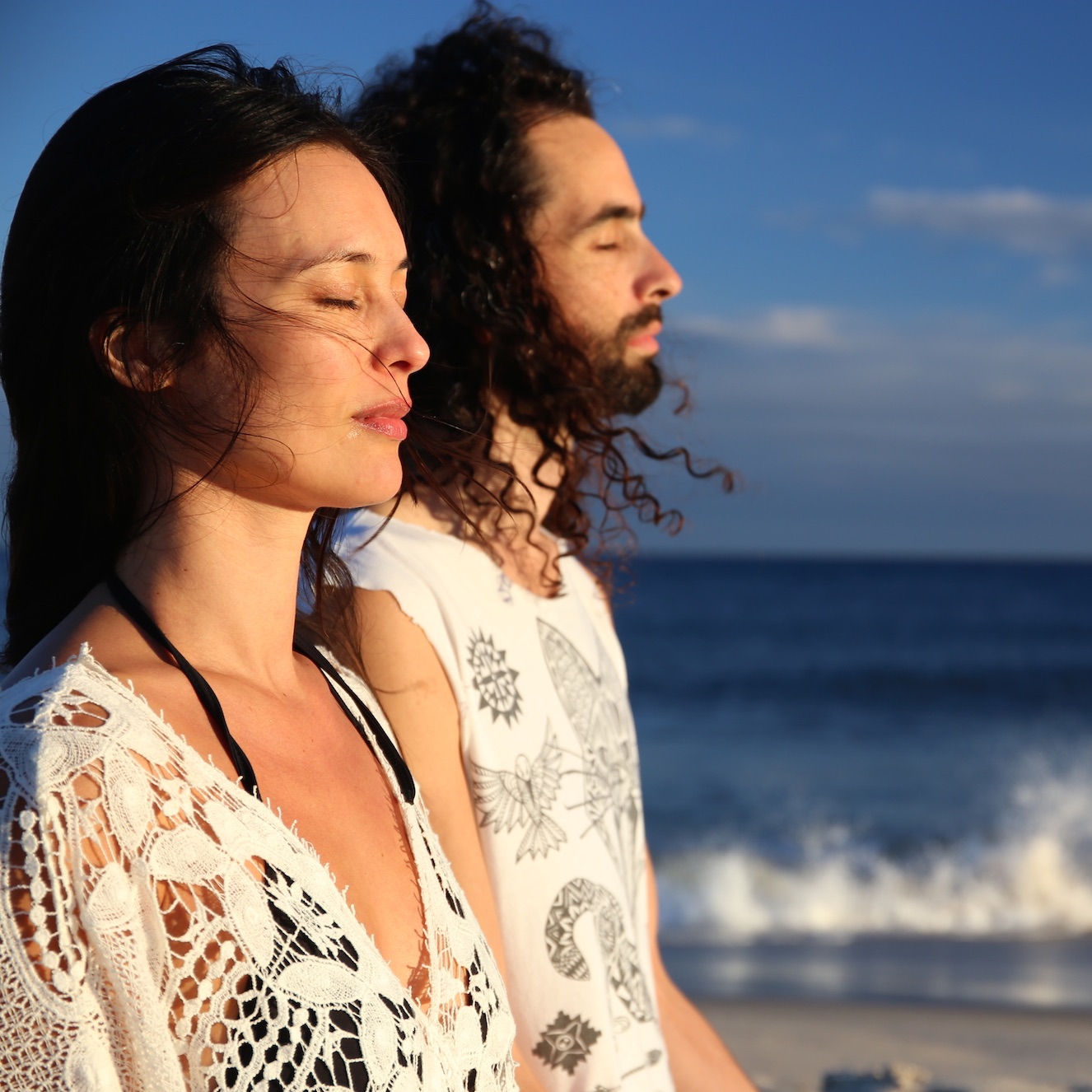 Aya and Tyler perform LIVE electronic meditation concerts for the modern listener featuring Aya's angelic otherworldly voice.
Aya and Tyler have collaborated musically with Blue Six, Sade, and Lenny Kravitz. In the meditation/yoga field Aya and Tyler have collaborated with Deepak Chopra, Alan Finger, Elena Brower, Sah D'Simone, Kripalu, Yoga Journal, and Wanderlust Festivals.
Fusing english lyrics, sacred mantras, elements of electronica, soul and R&B with shamanic rhythms & indigenous instruments, Aya and Tyler create an deeper experience of meditation and yoga through the power of music.
AYA Meditation is a musically guided practice designed to the heartbeat and the breath.
Whether you're an experienced meditator or just getting started, these musically guided meditations will bring you into a state of calm and deep grounding.
When you listen to this music, your body will relax into a natural breathing pattern and a resting heart rate.
Our breath becomes longer just like the waves of the ocean. We drop into the pulse of our true essential nature and we connect with ourselves, the planet, and our place in the universe.
All this music is recorded live in meditation, for meditation, so by listening to this, you are being guided gently to connect to your heart.
Contents
Welcome to AYA Meditation
Available in days
days after you enroll
Video Meditation 1
Available in days
days after you enroll
Guided Breath + Music Meditation 1: Surya
Available in days
days after you enroll
For thousands of years, music has been used for healing and has profoundly affected our well-being.
We designed these practices so you can develop a daily meditation that you will look forward to.
You will entrain your brainwaves to be still. This music was made out of stillness.
Consistent daily practice will encourage your brain to associate these certain frequencies, sounds, harmonies, and rhythms with an instant state of peace and tranquility. Each time you practice, you will drop in with more ease and effortlessness.
Use this as a tool to use throughout the day - in the morning, any time at work, at college before a test, when you're home with the kids, before bed, and anytime you'd like to chill out or want a quick reset. Just a few moments a day will remind of you of your true essential nature, Love.
Intention + Vibration = Transformation
Set an intention each time you practice.
As musicians, we have found that singing meditation music brings the listener into a meditative state. It is with great happiness that we can share this with others and hope that it brings you love, peace, and deep grounding in your everyday living.
with Love and Music,
Aya and Tyler
"Music is the divine way to tell beautiful, poetic things to the heart.."
- Pablo Casals
Frequently Asked Questions
When do I receive access to the music + meditations?
You receive access to Month 1 content + special bonuses immediately upon singing up. Each successive month you will receive additional new content automatically.
How long do I have access to AYA Meditation?
After subscribing, you have unlimited access to AYA Music as long as you remain an active subscriber.
How do I access the music + meditations?
You can stream the music on your desktop/laptop computer via your internet browser, mobile phone or tablet via your mobile browser, or via the Teachable iOS app.
Can I download the music + meditations?
You can download and save the music into the teachable iOS app ahead of time to play it when you don't have internet connection or limited data.
Can I use AYA Meditation in my public classes/events?
Absolutely! AYA Meditation is designed to enhance your yoga & meditation experience in your personal practice and can also be used in your public classes/events.